Every Christmas my mother gives the gift of money to her older grandchildren. She will normally write them a note.   The note will have instructions on what they can and can't spend the money on.  They are not allowed to use the money to get tattoos.
I am the reason this note exists.
My fascination and affinity for tattoos goes back to childhood and is a story for another day.
Today, I want to tell you the story of my epic journey that became the most expensive tattoo EVER.
Everything I am about to tell you is true.
You can't make this stuff up.
CHAPTER 1: IT STARTS WITH AN IDEA
I had an idea.  I decided to get a new tattoo.
But I didn't want just any tattoo.  I wanted something big.  And I wanted the best.
I wanted to get a tattoo from  Myke Chambers.  He is one of my favorite artists.  He has his own style of american traditional tattooing that I love.   The only problem is that he worked out of Philadelphia, PA.   The other problem was that he normally had a year long waiting list.
But, I had a solution to that.  He had an opening at a tattoo convention in Ohio.  And this convention was in a few months.  I figured the odds were slim that I would get a spot.  But if I did, I had a friend in Ohio that lived close to the convention, and I could stay at his house.  In fact, I normally visit him a couple of times a year anyway.  So, this would just be one of our normal family road trips.   So, I sent Myke an email.
To my surprise, Myke responded to the email.  But he couldn't see me in Ohio.  He was booked solid.  But, he had a cancellation at his shop in Philadelphia and he could work me in.  It was just a few weeks away.
I decided to take it.  If I didn't, I might have to wait over a year for another opportunity.  And often, opportunity only knocks once.
I invited a friend so we could make a trip out of it.  Like the old days.
CHAPTER 2: THE CITY OF BROTHERLY LOVE
There had recently been some major snow and ice storms throughout the Northeast.  Luckily, the worst was over.  But Philadelphia was very cold.
I had been to Philadelphia once before to take a test for medical school, but I did not have any opportunity to explore.  This time would be different.
And like all good tourists, we wanted to re-live the scene from Rocky.  Except there was snow/ice everywhere, so there wasn't much running around.
We got lost while we tried to figure out the subway routes.   We ended up trying to walk places that were way out of walking distance when it's below freezing.
Eventually, we made it to the famous Philadelphia Museum of Art (aka the Rocky Steps) and to the Rocky Statue.
(Pro tip: If you are using your phone's GPS/navigation tools, make sure you change it over to walking instead of driving.  We made 4 right turns around a block before we realized this.)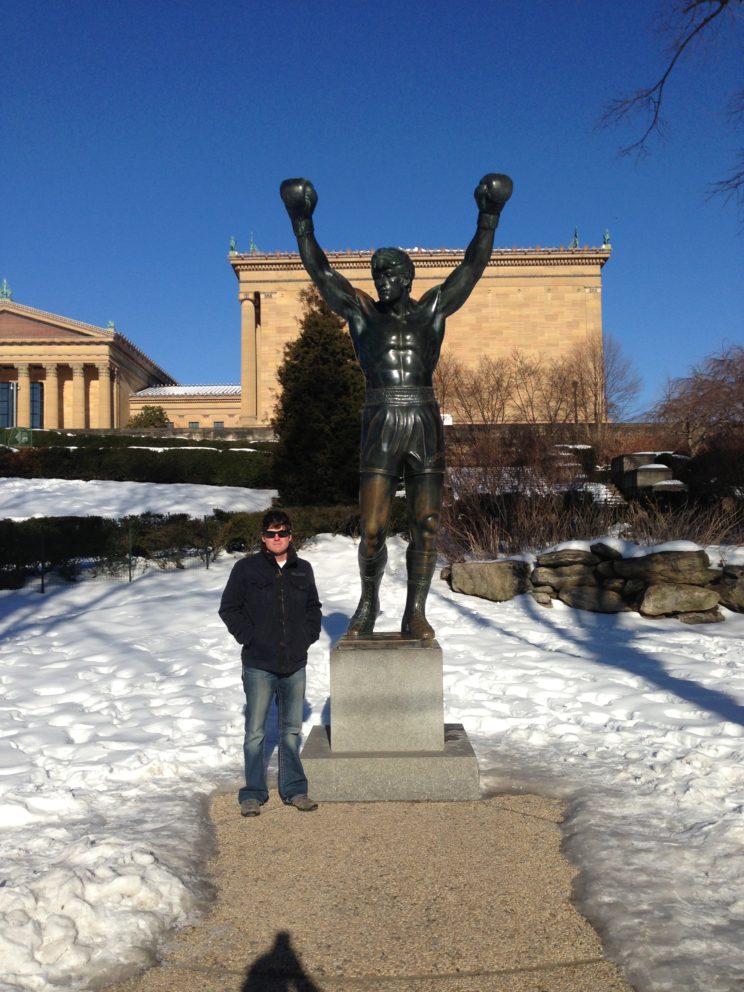 When I got to the tattoo shop, I met Myke.   We had not actually planned out the tattoo yet.  (That's right, I flew all the way there without any actual idea what I would get.  I just trusted he would do a good job)  We talked for a bit.  I gave him some ideas I had.  He told me he would draw something up.  He also told me that he had been sick since the night before.  He had the stomach virus.  He would have canceled on me, but he knew I had traveled a long distance to be there. And there was no back-up plan.
He hoped to just fight through the nausea.
He started to draw up my tattoo.  Finished it.  We discussed size and placement.  He placed the stencil on my arm and got to work.
Myke is a cool guy.  It turns out, he is a trained addiction counselor.  We talked about his history.  We talked about addiction treatment, pros vs cons of various strategies, and the continuous need for self reflection.  We talked about life, politics, TV shows, and about medical insurance.  All in all, it was a good experience.
The plan was to tattoo this entire piece in 6 hours.  One sitting.  After 3 hours, Myke had to call it quits.  He just couldn't go on.  He felt horrible and I could tell.  The poor guy looked green.  And as luck would have it, I started feeling sick as well.
I paid him for the 3 hours, and my friend and I went back to the hotel room.
Now, what I haven't told you is how much Myke charges.  He charges by the hour.  Out of respect for the artist, I won't go into details. But, what I can tell you is that he is in high demand and his services aren't cheap. 
But wait, I know what you are thinking.  The tattoo isn't finished and he's booked out a year.  What will you do?
CHAPTER 3: VIRGINIA IS FOR LOVERS
As the fates would have it, he had an opening during spring break.  The opening was at a tattoo convention in Virginia Beach.  Virginia Beach is a long drive, and this time I was driving.  I had to drive because flying would be cost prohibitive due to the fact I was bringing the whole family with me.  All 3 kids and my lovely wife.
We drove for 2 days so I could get 3 hours of tattooing done and then leave the next day to drive 2 more days back.
Virginia Beach is a cool place.  It had a nice boardwalk with good restaurants.  We went to the aquarium.  We ate ice cream.  We walked the beach.
Myke was feeling better.  He was able to finish up the tattoo in 3 hours.  He had a booth set up and people would come by and watch me getting tattooed.  They would stop him and ask questions and then he'd get back to work.   There were artists set up all over.  You could get tattooed,  buy a beer, listen to bands, and/or get pierced in awkward places.
Kat took the kids to a space museum while I was there.
Myke finished the tattoo, cleaned up my arm, and wrapped it.  Kat came and picked me up and we headed back to the hotel.  We would get up early the next morning and start the long drive home.
CHAPTER 4: CONCLUSION
Every epic journey must eventually come to an end.
And in truth, I didn't even tell you the whole story.
There are a lot of details I left out, such as: a witnessed drug deal, my wife's black eye, the Liberty Bell, Yahtzee, a "free" t-shirt, a beard contest, and my daughter throwing up in the van (with my wife catching it in her hands).
Yes, it was expensive.  Yes, it was time consuming.  Were there better things to spend my time and money on?  Doubt it.
Life just has to be lived.  It can't always be planned and mapped out.
Sometimes you need to get lost, to discover a new way.
In conclusion: 2 plane tickets + 5 hotel nights + gas + 6 hours tattoo time + near frostbite + a black eye + 4 long days in a van with 3 young kids
And I wouldn't change a thing.
Now go and make your own memories.
Godspeed.